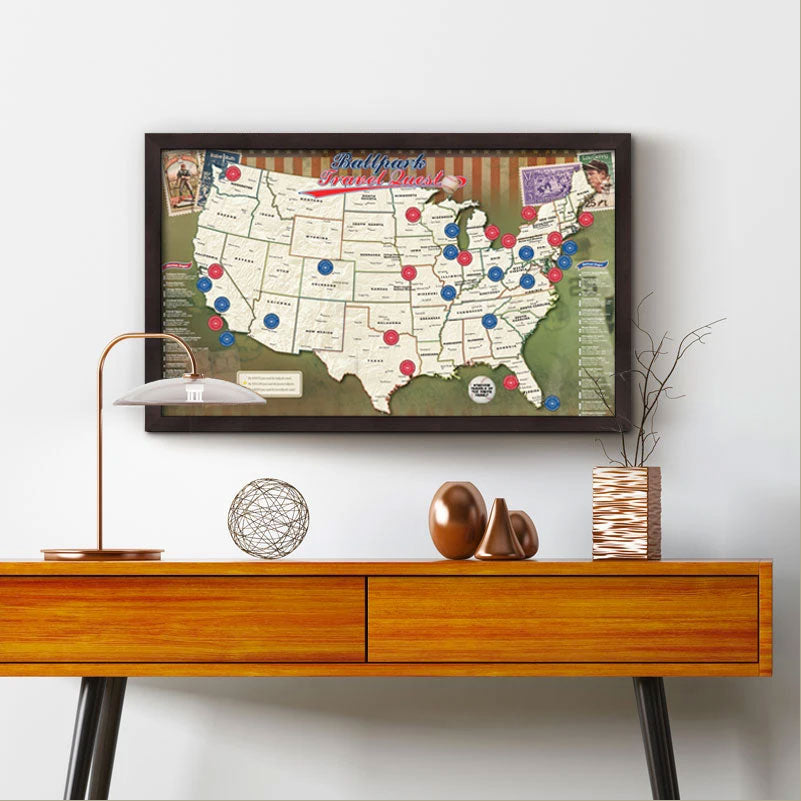 Travel Quest Maps
Ballpark Travel Quest Map
Details
Track Your Stadium Quest!
Map fully updated in 2023!
Are you one of those people who has challenged yourself to visit all the ballparks? You are not alone! This unique baseball map displays all of the ballparks (past and present) throughout the country on a one-of-a-kind framed baseball print. Perfect for tracking baseball road trips and favorite stadium destinations.
Free personalization included!
Pins Included!
White pins to mark the stadiums you've visited
Green pins to mark the most recent ballpark(s) you visited
Yellow pins to mark your favorite ballpark(s)
Perfect Addition to Your Home or Office
Framed in a dark, rustic wood this is a beautiful framed print
to hang in any home, den or office.
Finished size is 21" x 33".
Great Gift
The Ballpark Quest Travel Map is a great gift for any baseball fan. Our customers love not only the combination a beautiful baseball print and ballpark map, but also the ability to track all their ballpark adventures.